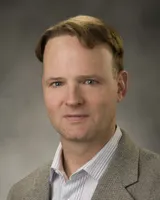 David C. McKee, M.D. is Board Certified in Neurology by the American Board of Psychiatry and Neurology, with subspecialty board certification in electrodiagnostic medicine and neuromuscular disease by the American Board of Electrodiagnostic Medicine. He is a fellow of the American Association of Neuromuscular and Electrodiagnostic Medicine. Dr. McKee's undergraduate degree, a B.S. in Chemistry (summa cum laude) from Macalester College in St. Paul, was followed by his M.D. from the University of Wisconsin Medical School in Madison. His internship and residency were completed in Portland, Oregon, at Good Samaritan Hospital and Oregon Health Science University, respectively. They were followed by a fellowship in neuromuscular disease and electromyography at the prestigious Montreal Neurological Institute, McGill University, in Quebec, Canada.
He began his practice of neurology in Duluth in July of 1992 and has been very involved in the northern Minnesota medical community ever since. In addition to this practice, he served as a medical director (specialty care) and chief medical officer for Integrity Health Network. He has been elected to Best Doctors in America twice, and in 2014 was selected as a Castle Connolly top neurologist.
When he is not in the office you can catch him sailing with his family or coaching his daughters' basketball teams.
Rebecca Meyerson, M.D. is a Board Certified Neurologist in Duluth, MN and has over 29 years of experience in the medical field. Dr. Meyerson has experience with Epilepsy and Neurodegenerative Disorders. She graduated from University of Minnesota Medical School medical school in 1992. She has been affiliated with medical facilities Memorial Medical Center and St. Luke's Hospital. She is accepting new patients.